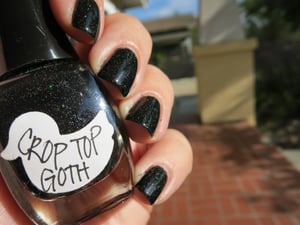 $

10.00
Crop Top Goth is named for one of our favorite beach babes, Seattle-based Kim Selling of theavantguard.tumblr.com. It features a witchy black base and extra-fine silver holographic glitters, which look nothing short of magical under direct sunlight.
Crop Top Goth is more opaque than most other Plump shades, and only takes 2 coats to reach opacity.
All products work best after shaking or rolling the bottle while it's upside down; this will ensure maximum glitter makes it onto your brush!